DigiDocService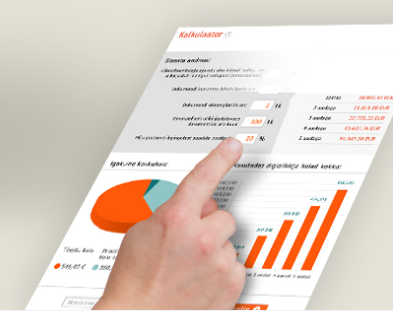 The DigiDocService is a SOAP-based web service with the help of which you can easily add identification, digital signature, signature identification and Mobile-ID functionality to an e-service or application. The service can be used on development platforms that have SOAP 1.0 RPC-encoded support.
Adding the ID-card and Mobile-ID support to e-services and various information systems is simple and allows for:
digital signature using an ID-card (or another smart card);
identification and digital signing using Mobile-ID;
certificate validity verification (identification using an ID-card or another smart card);
creation of DigiDoc files;
content and signature validity verification of digitally signed files (DigiDoc).
Business advatnages
Electronic identification by an ID-card or Mobile-ID is in several ways better and securer than a username and password. Upon authentication by ID-card or Mobile-ID you can be certain that the right data is obtained from the document and the document is in the hands of the right person – this way the service provider's risk of receiving false information from the user is reduced. Furthermore, all service providers can provide their services directly and securely to all ID-card and Mobile-ID holders without prior registration. It is also convenient for users, because they do not have to remember different usernames or passwords – the same document and PIN apply to all services.
Using a digital signature is convenient and quick, because it allows for carrying out operations, for which one had to use a handwritten signature in the past, electronically and without paper. The digital signature is also very secure, because it cannot be forged and thus its correctness is ensured. Watch the video introducing digital signature. ​
According to the Digital Signature Act, only signatures that have a valid certificate at the time of signature are valid. With the help of the validity confirmation service the validity of a digital signature can quickly and conveniently be verified. Also, a query of the correctness of a digital signature can be made after the expiry of the term of validity or after cancellation of the certificate.
How does the DigiDocService work?
The DigiDoc web service uses SOAP 1.1 protocol in the rpc style and in the encoded form. The service can be used by directly following the DigiDocService protocol or by using one of the ready-made client interfaces.
Access to the service is created on the basis of an IP address. A contract with Sertifitseerimiskeskus needs to be signed for using the DigiDoc web service.
Prices
The price of using the DigiDocService depends on the number of signature and authentication queries per month and on the number of concurrent queries coming from one application.
The price list and pricing model of the DigiDocService are analogous to the standard validity confirmation service. Without a validity confirmation service contract the DigiDoc web service cannot be used. The validity confirmation service price list can be viewed here.
Additional technical information