ID-card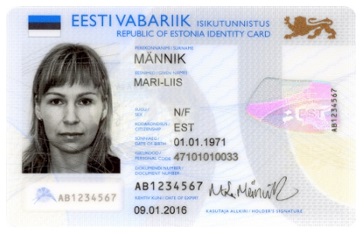 As a partner of AS TRÜB Baltic, SK has issued certificates for ID-cards issued by the Police and Border Guard Board (PPA) since 2002. Service points of the PPA receive the data of a card applicant and verify its correctness, SK issues new electronic certificates for the card and takes care of the development and dissemination of applications.
SK also provides the ID-helpline service at +372 677 3377 or 1777 for suspension of certificates and provision of customer support.
SK provides the following additional services for ID-card in its customer service points:
verification of certificates;
activation of certificates (termination of suspension);
suspension of certificates;
revocation of certificates;
change of PIN codes.
For further information about identity documents visit the website of the Police and Border Guard Board.
You can also visit the ID-card help centre.
Contact
ID-helpline
Phone: +372 677 3377 or 1777
E-mail: abi[A]id.ee
SK's services that enable electronic use of ID-card
are compliant with the eIDAS regulation
and included in the European Trusted List.